Mobile Tickets are here! 29/01/2019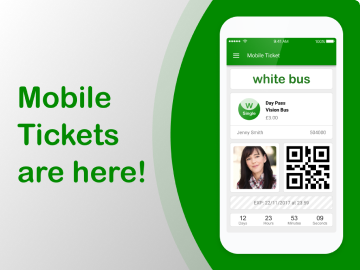 You always have your phone, so you'll always have your ticket!
Our new account-based ticketing system allows you buy, manage and display a full range of M-tickets on your phone screen.  You can access our services through our app (available on iOS and Android devices) or through the fully mobile-compatible website, whichever suits your needs.
Your account allows you to purchase tickets at a convenient time and activate them when you need them.  Purchasing a weekly or 4-weekly WhiteRider pass gives you the confidence to know that you can board any White Bus, any time and make the most of our whole network.
See our tickets and fares to learn more about what is available.